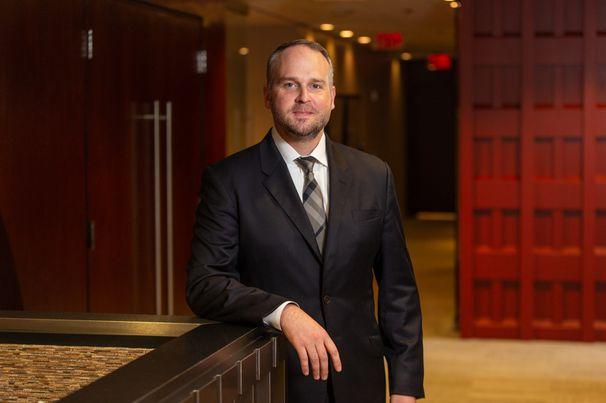 Professional Experience:
Michael is a Delaware litigation attorney with a practice focused exclusively on representing individuals injured in various types of personal injury and workers' compensation cases.  He has litigated civil cases throughout all levels of the Delaware court system, including motor vehicle accidents, premises liability, products liability, industrial accidents, insurance coverage disputes, and appeals.  Throughout his career, Michael has developed significant capabilities as a skilled advocate, which has been cultivated through his substantial courtroom experience in trials and hearings, appellate proceedings, expert depositions, discovery disputes, as well as arbitrations and mediation proceedings.
Education:
University of Delaware, B.A., 2002
Widener University School of Law, J.D., 2006
Memberships:
Delaware State Bar Association
Delaware Trial Lawyers Association
Seminars and Teaching:
The John F. Kirk Workers' Compensation Breakfast Seminar, 2015
The Raymond C. Radulski Workers' Compensation Seminar, 2014
DSBA Workers' Compensation Seminar, 2010
Other:
Representative Cases:
Christiana Care Health Services v. Palomino, 74 A.3d 627 (Del. 2013)
Successful appeal involving an issue of first impression concerning the validity of a workers' compensation regulation that created a 45-day time limit which impermissibly restricted the right of injured workers to petition the Delaware Industrial Accident Board for payment of medical expenses denied by insurance companies.  The Delaware Supreme Court invalidated the regulation, finding that the 45-day time limit conflicted directly with the 5-year statute of limitations for acknowledged compensable workers' compensation claims, and therefore impermissibly abridged injured workers' rights under the Delaware Workers' Compensation Act.
Poole v. State of Delaware, 77 A.3d 310 (Del. Super. 2012)
Successful appeal involving an issue of first impression concerning procedural requirements under a 2007 amendment to the Delaware Workers' Compensation Act which significantly revised the regulation and payment of medical expenses for injured workers by establishing a "Utilization Review" system to be used by employers and insurance carriers to dispute medical treatment for acknowledged compensable claims.  Following a hearing on the merits, the Delaware Industrial Accident Board granted the claimant's petition, finding that his work-related injuries were compensable and that his medical treatment expenses were reasonable and necessary.  However, instead of order the employer to pay the medical expenses, the Board allowed the employer to file an additional challenge by submitting the medical expenses for Utilization Review.  On appeal, the Delaware Superior Court reversed this decision, finding that the Board erroneously allowed the employer to further challenge the same medical treatment that the Board had already determined to be reasonable and necessary at the hearing.  The Court held that in disputed injury cases, the Board retains the sole authority to determine reasonable and necessary of medical treatment expenses and the Board may not delegate its authority by referring the issue for Utilization Review.
O'Neal v. State Farm Mutual Automobile Insurance Co., 977 A.2d 326 (Del. 2009)
Successful appeal involving an issue of first impression in a declaratory judgment action for wrongful death and personal injury protection benefits. The Delaware Supreme Court reversed the Superior Court's grant of summary judgment, finding that the trial judge erred in determining as a matter of law that State Farm was not obligated to provide insurance coverage.